Much as life in the time of Covid-19 is a chapter I would like to omit, a valid chronicle doesn't leave out the hard parts.
A few notes for "Grapes and Old Stones": 
Early March 2020.   After a woefully diluvian winter, the first days of Spring.  Delirious, we shed our rubber boots and venture barefoot over the paquerettes and dandelions.  The baby eats the dandelion stems and we smile at his herbalist wisdom.  We carry platters outside for the first family lunch in the sunshine.  Carry tea and cake outside for the first little gathering of friends to shake away the blues and exchange post winter stories.   The news from China seems far away.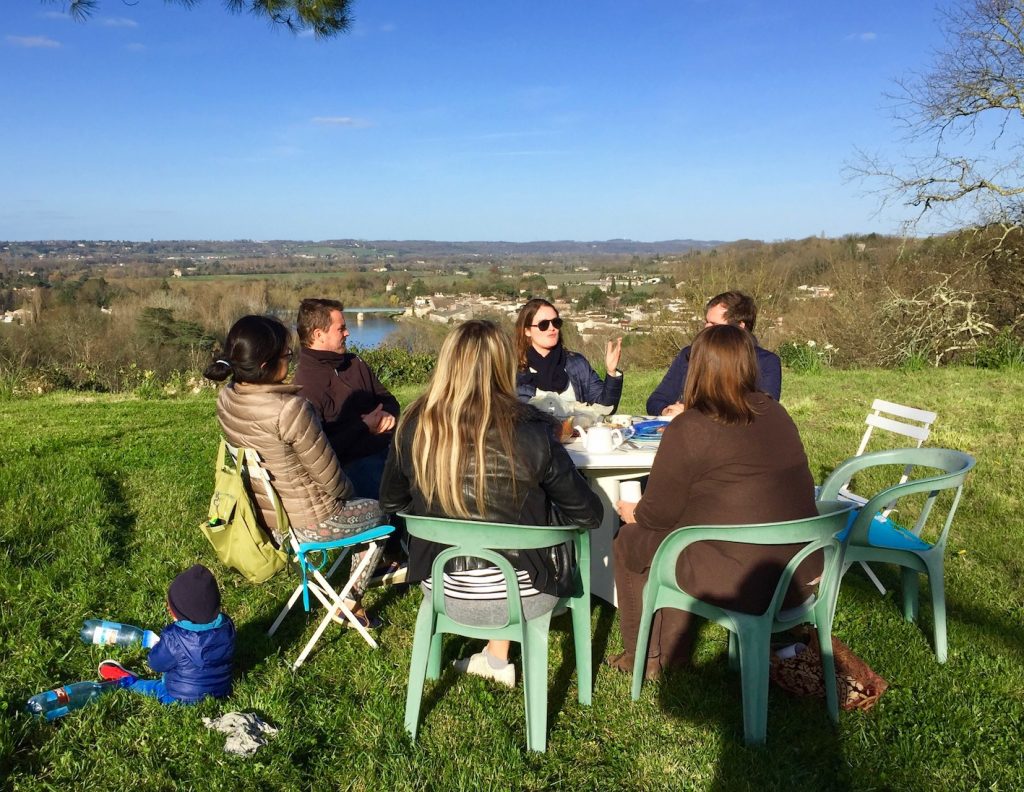 First gathering.   Last gathering.
Quarantine; a word from the forty days of isolation imposed during the 14th century to contain the spread of the plague.  Five years ago we used this word ironically to describe our self imposed winter hibernation.  Today, from the Côte de La Tourbeille we look out over the valley and see the real thing.   Almost everything has stopped.   We are three little households inside a real cordon sanitaire, gaping at the world in disbelief.
We miss our friends and far off family, but mostly we worry.   We worry about everything.   About the nurses and doctors in the trenches.  Macron says we are at war.  It must surely feel that way for them.  Cases mounting, battling an enemy that remains invisible for so long.  We worry about the sick, alone in hospitals.  Worry about Italy.  I worry about the people in refugee camps.  That is overwhelming so I look away and then feel a bit ashamed.   We worry about the economy.  Our small business.  All small businesses.  What with climate change, recession already in the wind and unscrupulous rulers, we worry what this all might portend… 
And then I take a deep breath.  I think of my friend Steve L. and his instinct to focus on the higher road.  Think of all the smart people acting with decency and civility.  Think of those who aren't hoarding or ducking responsibility.  Think about the elderly neighbour I need to check on, keeping a safe distance from the edge of his garden.
The first gift of quarantine.  The challenge of taking the higher road.
I push aside fear and focus on how lucky we are.  We have each other.  The baby makes himself laugh.  It is contagious.  I am picking dandelions and laughing at nothing because I'm minding the baby while work is on hold.  His is a world of pure amazement at the wondrous sensation of laughter itself. 
Five winters ago our quarantine was a winter dedicated to creative projects by withdrawing from our social world.   No dinners, no travels, no guests.  John hauled up a seasoned trunk of oak from the forest and set to sculpting in the garage.  Henri sequestered in the small office and began his agricultural-philosophical treatise.  I closed the bedroom door and penned the outline of my novel.
Today I miss the luxury of that insouciance.  But in this forced slow-down there is time again for projects.  John has turned to a neglected hilltop, preparing soft grass and a lofty haven for picnics, naps and meditation.  Henri is composing music.  Genevieve is tending her first garden.  Carol and Julien have time for their toddler.  They're trying new recipes for the Taverne.  We prepare the soil for planting vegetables and although we can't help talking about the epidemic, we also try to visualise better times this summer.
The second gift of quarantine.  The deceleration of Time.
As we stay home, we re-think the way we live and our impact on natural resources.  I've read that less travel has reduced pollution in the air.  There is more silence; without the distant hum of cars, I can hear birds with new clarity. *   Supporting local farmers is suddenly urgent for everyone, not a "nice to have."  All those strawberries and kiwis flown in from the other side of the world – what were we thinking?  
The third gift of quarantine.  Supporting local.
At 7 am and 7 pm the church bells from the valleys and hilltops all around us chime out.   People once knew they were a call to stop and think about God.  To pray.  All the great spiritual traditions tell us that a prayer as small as a mustard seed, issued in faith and gratitude is a powerful thing; that a prayer of thanks is the only prayer.  
The fourth gift of quarantine.  A reminder to reflect and give thanks. 
At the end of our first quarantine in March 2015 we did a show and tell.  Henri opened a flip chart and presented his world view: Mushrooms and Soil and the Greek Elements and Entropy and the Divine.  He was way beyond our league but we cheered him on.  John presented his finely polished sculpture.  We caressed the smooth wood and felt its energy.  After much discussion we decided it was too personal to name since it meant something different to each of us.  I told them "The Story of Jeanne."  Knowing a novel demands a huge time commitment I wanted to know if this was a story worth telling.  They said yes.
For five winters hence, I observed a semblance of creative quarantine.  John sheltered my mornings by intercepting delivery men and chatty neighbours.  As this quarantine begins, the novel I began five years ago is finished.
Just as earlier generations and civilisations have been permanently altered by wars, depressions, cataclysms… we all sense that this unprecedented time will change us forever.    The challenge is who we will choose to become as we react, adapt, move forward.  
For today, I don't know what to do but stand on our overlook and absorb the silence.   Listen to the song of birds new to our region this year.   The problems of climate change and the warmest winter on record brought them to us.   Their song is a gift.   A duet.   Two friends singing to each other from distant tree tops.
*You can hear the song of the birds – click here: (and if you know the name of this bird, send me a note!)
Bird song,  Côte de La Tourbeille March 2020