LA TOURBEILLE  WINES   2012 – 2019:
Our modern winery, located at the vineyard, was renovated and expanded in 2015.  To allow for vinification by parcel, our stainless steel tanks are custom made for us by CTM in Montbazillac.
Our Italian hydraulic press permits batch pressing at optimal dates; gentle pressing is chosen for maximum flavor with smooth tannins.
La Tourbeille cuvée "Le Sceptre" are a limited selection of special blends, aged in French oak for 12 months.
2012 La Tourbeille Bordeaux Supérieur Red
100% Merlot, gold medal winner at the Concours de Bordeaux. This vintage is rich and full flavored– a key element of our terroir – with great body and a smooth, lingering  finish.  Sold Out.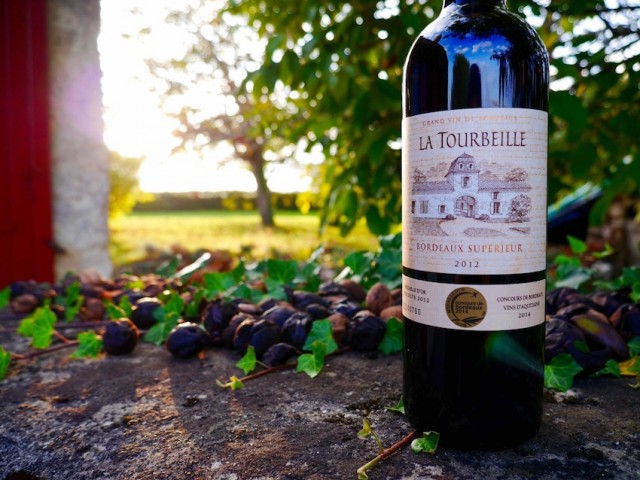 La Tourbeille Rosé, "l'Esprit de Jeanne"  
In the cool of September dawn, family and friends gather to harvest our special parcel of vieilles vignes  (70-year-old vines).  We assemble Cabernet Franc, Merlot and Cabernet Sauvignon to create a limited edition Rosé.  Using a gentle pneumatic press as soon as the grapes are harvested ensures the pale pink color, delicate aromas and notes of summer berries. A manual brassage des lies  at the end of fermentation brings a subtle gras to the texture.   "L'Esprit de Jeanne" is elegant, dry and refreshing.  In 2017 it was selected by VINOGUSTO  as one of the "Top Ten Rosés of Bordeaux".
La Tourbeille 2014 is a silver medal winner of the prestigious Concours de Paris 2017 and the Prix Plaisir Guide Bettane & Desseauve 2018. This vintage is a finely balanced blend of 85% Merlot and 15% Cabernet Sauvignon.  Notes from the jury:  "joli nez, fruits noirs, ample."  Aromatic bouquet, black fruit flavours, rich texture, full body.
La Tourbeille cuvée "Le Sceptre" 2015 is a select blend of Merlot and Cabernet Sauvignon, aged in French oak barrels for 12 months.  The Sceptre icon – a version of the shepherd's staff also held by Jeanne on our Rose label – refers to our commitment to protect the natural resources of our family domain. The Sceptre is full bodied, with flavours of rich black fruit, smooth tannins and a lingering finish.   Star rating Guide Hachette 2019. Sold Out.
La Tourbeille 2015 – an exceptionally good year – une grande millesime – is an assemblage of 73% Merlot, 17 % Cabernet Sauvignon and 10 % Cabernet Franc.   The Cabernet Franc brings a whisper of violets and a touch of elegance and spice.  Gold Medal Terre de Vins magazine 2019; Gold Medal Bettane & Desseauve 20019  jury comments: "…elegant bouquet, a lovely balance of fresh red and ripe black fruit."
La Tourbeille 2016 cuvée "Le Sceptre"   80 % Merlot, 20 % Cabernet Sauvignon.  Harvested in October after an exceptional after season.   Aged 12 months in French oak barrels.   No sulphur through fermentation allowed more of the indigenous flavours rich fruit profile of our terroir to emerge.  Gold medal Terre de Vins Magazine, Paris in 2019:  "rich red and black fruit with notes of violet and ripe cherry; luscious and round with supple tannins."
Save
Save
Save
Save
Save
Save
Save
Save
Save
Save
Save
Save
Save
Save
Save
Save
Save
Save
Save
Save
Save
Save
Save
Save
Save
Save
Save
Save
Save
Save
Save
Save
Save
Save
Save
Save
Save
Save
Save