Thirty years ago my eldest brother was a deer hunter in Michigan.  He tracked alone in the woods after a snowfall and perched for hours in a tree, waiting with bow and arrow and thermos.  When his prey finally came in sight he aimed, knowing the hit would be true.   Then he set down his weapon.  He promised his children he'd hunt but not kill.
Our local hunters don't have that luxury.  They are called to duty at moments through the winter, as boar and deer overpopulate, and damage to orchards and vineyards reaches a tipping point.
There's a slight sense of urgency when we get our Saturday morning visits from the head of the hunt club.  He tips his cap and bows with old fashioned courtoisie.   Their scout has been tracking the damage, compiling sightings, estimating current locations.   It's a deer day.  On our land.  "Do we have your permission?"  All courtesy, but you can tell he's ex military by the way he manages his team.
I see them gathered for strategy planning before they're dispatched to the prairies, hedges, edges of the woods, waiting for orders by telephone, or signals from the horn.
As we watch from above, we hear the sound of the horns and the frantic barking of the dogs in the brambles, tracking their prey.  I'm thinking about the hunters in East Hampton, New York.   About the recent "government deer sniper controversy."   As their deer population has grown to 25,000 or higher, the incidence of lyme disease, car accidents and vegetation damage has risen.  An extreme situation, an extreme measure.   The "cull" is protested as an animal rights disaster.
We face the same extremes here:  most residents know that if the boar population multiplies too quickly, the regional "federation" posse will take over.  The locals call it a massacre.  Everyone laments the slaughter and the waste as all the boar are killed and destroyed.  A healthy boar or deer can feed a multitude – and no hormones or antibiotics on the menu.
On this particular morning, four are felled.  The horns declare the end.
We decide to join the hunters on site.  There is no whooping or rejoicing.  They are quietly pleased.  Among the men, there is only one under the age of 45.  The hunt club itself is a sort of endangered species; not easy to recruit from the next generation.
The head of the club must pass an exam at regular intervals for legal certification to examine the opened animal and ensure it is not diseased.  On site he fixes the government issued tags for reporting every animal.  Each year a quota is set, based on the current local population.
Today they've reached their limit, there will be no more deer hunting this year.   As we talk I learn about their many rules, some self imposed. For example, they do not kill a female with young to avoid the trauma of young without care.   "C'est la regle de la nature."
Everything is about equilibrium.  The farmer says that boar were practically non existent in these woods 30 years ago.   With no natural predator, men in guns stepped in.
I force myself to take a close look at the dead.   I remember what a conscientious niece once said:  "If you're going to eat it, know you could kill it."
Not sure about that.  Just looking is hard enough.  And yet I will gratefully prepare a meal of game marinated in our red wine.   Another custom: when there is a kill on our land, we receive a share.  We'll set a large table since one cut could feed ten or more.
And maybe I should invite the newcomers from Paris who bought the property on the next hill over.  They are squeamish about permitting hunters on their land.  We could talk about the win/win option of a limited cull by local hunters before the federation "posse" is called in.  About local traditions, recipes for game…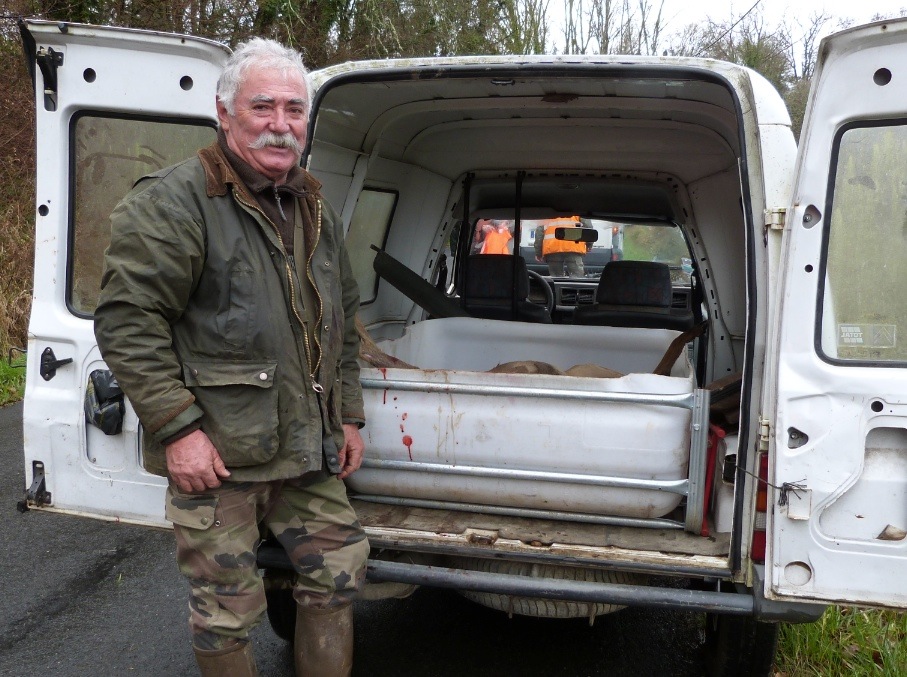 Hard as it might be to accept the kill, this does not feel like Man Against Nature. Farmers, residents, flora, fauna, hunters –  everyone out there is looking for balance.