The wine business often seems dominated by men.  But long before Jesus made his winemaking debut at Cana, there were women at the helm.  Like Oeno.  Mere mortal, yes, but also a descendent of Dionysus, (god of the grape harvest and ritual madness).  Oeno was renowned for her skill in turning water into wine.  Naturally, she was carried off to war by the Trojans to keep them supplied.
This century is showing up differently.  At our recent village council elections, the candidate mayor was determined to fill some of his seats with vigneronnes (women grape-farmers) because of their important and unique perspectives for the community.   Here in Aquitaine we are luckily surrounded by women farmers, oenologues, lab technicians, agricultural advisors…  And of course, vintners.  Here is one, Julie Bergerat from Burgundy, making wine in Bordeaux.
I found her in the family winery last September, day of the Sauvignon Blanc harvest, calmly protecting her first run juice from oxidation.  The grapes were handpicked in the cool hours before dawn.
We spoke as she managed tubes, pumps, vats and dry ice, all focus on keeping the temperature down. With her husband Olivier – who skipped around the freezing winery barefoot – they set up their gentle grape escalator and the gentle "carpet system" press.  They worked their tools in synch, barely exchanging a word.
After university in Burgundy, including the diploma in Oenologie, Julie worked vineyards in California, Maryland and Virginia, and in fact met Olivier in the USA. When the romantic proposal took place, she refused the diamond ring and asked instead for a tank and some oak barrels to create her own white wine.  A wine that would combine her two cultures – Burgundy and Bordeaux.  And break some rules.
Here in the Bordeaux AOC area we live under a mountain of rules. They were intended to protect the name and quality of our classified wines, but today the rules and fees and penalties sometimes feel so heavy, we ask ourselves if it's worth it.   Julie stopped asking herself that question.  She took the leap and did away with the "prestige" classification (AOC) in order to make her wine with greater liberty as a "Vin de France." She adopted a Burgundy style bottle, scrapped the traditional Bordeaux packaging, made her own decisions about residual sugar, etc…  It reminds me of a primary principle of Tai Chi: "Don't resist; align yourself with the moving force."  In her winery, you can feel the easy confidence, as Julie weaves gently amidst her grapes and her tools.
On this harvest morning I learned about the months Julie spends coddling and pampering her wine and "finishing" it in oak barrels – another touch of the Burgundy style.  But perhaps the secret to this Burgundy Bordeaux is in her dedication to "working the lees" (travail sur lie).   This entails weeks of stirring the juice by hand to break the cell walls of the dying yeasts, and thus release the particular flavors that give a wine the highly sought after sensation of "gras."  "Gras" is that slightly unctuous, round, heavenly texture as the wine rolls over your tongue.  Difficult to achieve, and rarely found in the Sauvignon Blanc wines of Bordeaux.  (In Burgundy this work is done on Chardonnay grapes.)  White Bordeaux can be perfumed and crisp, with a pleasant acidity…  wonderful.  But rarely "gras."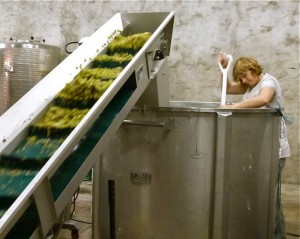 Julie explained that the trick to "gras" is knowing when to stop.  If you work the lees too long, the wine can turn "flabby" and heavy, and lack acidity.  So she tastes each day and halts the stirring when her palate tells her she has the gras, rondeur, complexity and acidity she wants.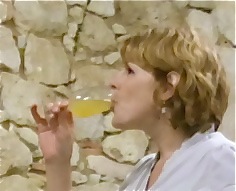 Last summer, visiting friends were delighted to discover this idiosyncratic Burgundy style Bordeaux on our table.  But when I tried to buy another case – pas de chance.  Sold out.  Another signpost on the road of least resistance.  A "Vin de France" that needs no marketing, sold out by word of mouth.  No pun intended.
We emerged from the freezing winery into the September warmth and the cooing of a three month old.  All twinkles for the young mother who fed and coddled him, before returning to her sweet cauldrons of pampered grapes.
Julie Bergerat
Vignobles Bouilhac-Bergerat
33790 Landerrouat   France
 info@bouilhacbergerat.fr